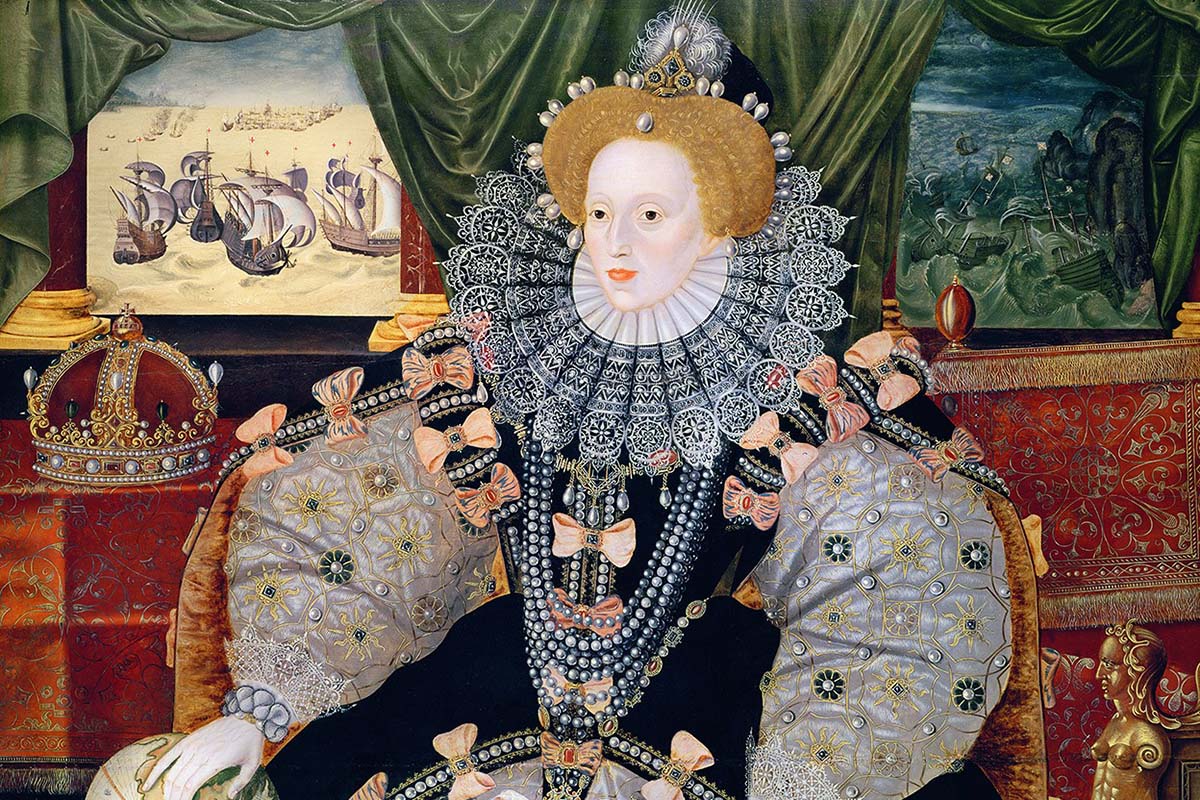 Elizabeth I reigned as Queen of England from 17th November 1558 to 24th March 1603. Her reign is sometimes known as the Elizabethan Age, and was the era of William Shakespeare's plays, Sir Frances Drake's trips to America, and the defeat of the Spanish Armada.

Elizabeth was the daughter of King Henry VIII and his second wife Anne Boleyn. Elizabeth was born a princess, but when Henry decided to end his marriage to Anne and had her head chopped off, Elizabeth lost her status. She became Lady Elizabeth from the age of just over 2 and a half years.

Elizabeth's path to becoming Queen of England wasn't easy. Usually, the successor to the English throne is the oldest male descendent of the reigning monarch. If there are no males, it goes to the oldest female descendent. Henry VIII's first wife was Catherine of Aragon, who gave birth to a girl called Mary. This would make Mary the heir to the throne. Elizabeth was born to Henry's VIII's second wife, Anne Boleyn, but Henry had a son to his third wife, Jane Seymour, who they called Edward. This would make Edward heir to the throne, with Mary second in line and Elizabeth third in line. Edward became Kind Edward VI when Henry died in 1547. However, Edward died in 1553 and despite attempting to name his cousin, Lady Jane Grey, as his successor, Mary took over as Queen Mary I after Lady Jane Grey reigned for only 9 days (all of which she spent in the Tower of London). Queen Mary I died on 17th November 1558 and as she had no children, Elizabeth took the throne of England, and became Queen Elizabeth I from that date.

Queen Elizabeth I never married and never had any children. For this reason, she is sometimes known as The Virgin Queen. As she didn't have any children, there was no heir to the throne in her family line (the Tudors), so the title went to the King of Scotland, James VI, who had some family link to Elizabeth somehow. He became King James I of England but continued ruling Scotland. After this, although the two nations remained as separate Kingdoms, they always had the same monarch, and of course eventually united to become the United Kingdom. What would have happened if Elizabeth I did marry and have kids?

Although Queen Elizabeth I didn't marry, marriage to a number of suitors was considered. Amongst them were Thomas Seymour (creepy husband of Catherine Parr, Elizabeth's guardian, and 24 years older than her), Lord Robert Dudley (married man who Elizabeth quite liked but her government didn't. Some historians think he had something to do with his wife falling down some stairs to her death, thus freeing her to marry Elizabeth), King Phillip II of Spain (proposed to Elizabeth, got rejected, later attempted to send an Armada to invade England), the Archduke Charles of Austria (King Phillip II's cousin), and the Frenchmen Henri, Duke of Anjou and Francois, also Duke of Anjou.

Queen Elizabeth I would sometimes wear a frog-shaped earring, given to her as a gift from Francois, the Duke of Anjou. This was probably because Elizabeth called Francois her "frog". Either political correctness didn't exist in the 16th Century, or Elizabeth could get away with saying what she wanted because she was Queen.

Queen Elizabeth I is sometimes pictured as wearing thick white makeup. Although this look was apparently fashionable at the time, Elizabeth did it to cover up scars left from a bout of smallpox.

Elizabeth was born on 7th September 1533 and became Queen at the age of 25. She reigned for 44 years and 127 days. She is the eighth longest-reigning British monarch, and the third longest of any female monarch - the longest reigning female is Queen Elizabeth II, the current Queen, who has been reigning for over 67 years. The second longest is Queen Victoria who reigned for 63 years and 216 days.

Elizabeth could understand several languages: English, Latin, Greek, Italian, French, Spanish, Welsh and apparently even Cornish, a language which is now only spoken by about 2,000 people in Cornwall.

Queen Elizabeth I has been portrayed more often in film and on television than any other British monarch. Amongst the actors that have played her are Sarah Bernhardt in Les Amours de la Reine Elisabeth, a French silent film from 1912 and the first screen portrayal of Queen Elizabeth I; Bette Davis who played Elizabeth twice, first in The Private Lives of Elizabeth and Essex (1939) and again in The Virgin Queen (1955); Jean Simmons in Young Bess (1953); Glenda Jackson in the BBC television series Elizabeth R (1971); Miranda Richardson in Blackadder II (1986), Blackadder's Christmas Carol (1988) and Blackadder: Back and Forth (2000); Quentin Crisp in Orlando (1992), Cate Blanchett in Elizabeth (1998) and again in Elizabeth: The Golden Age (2007), Dame Judi Dench in Shakespeare in Love (1998), Helen Mirren in the TV mini-series Elizabeth I (2005), and Margot Robbie in Mary Queen of Scots (2018) Time-travelling time lord, Doctor Who, has also bumped into Queen Elizabeth I in episodes in 1965 and 2007.

Facts added 19th September 2011, updated 13th April 2020