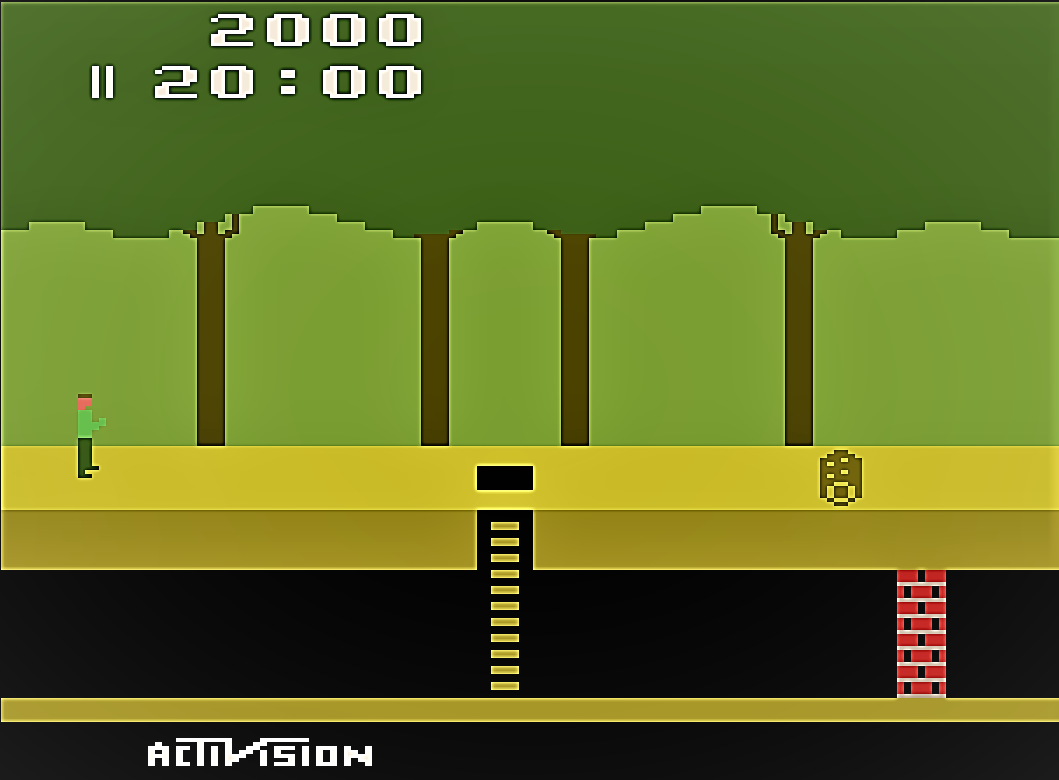 Pitfall! was originally released for the Atari VCS console in 1982. At the time, the Atari VCS - which was later renamed the Atari 2600 - was the dominant home video game console. It was the PlayStation or Xbox of its day, only with fewer colours and simpler games. It was one of the earliest games developed and published by Activision who are nowadays best known for their Call of Duty games. Pitfall! was also released on many other computer and consoles shortly afterwards including the Atari 5200, ColecoVision, Commodore 64, Intellivision. It was followed by numerous sequels, remakes and rereleases over the following decades.

Over 4 million copies of Pitfall! were sold for the Atari VCS/2600. This makes it the second most successful game for the console. The most successful was Pac-Man which sold 7 million.

The name of the main character in Pitfall! is Harry

The sequel to Pitfall!, Pitfall II: The Lost Caverns (1983), is included in the video game Call of Duty: Black Ops II (2012). It is unlockable in the Nuketown 2025 downloadable map, along with three other Activision games released for the Atari VCS/2600. This isn't the only time a Pitfall game has been hidden within another game. Pitfall: The Mayan Adventure (1994), which was released for the Super Nintendo, Sega Mega Drive/Genesis, Windows and Gameboy Advance, featured the original Pitfall! game in a hidden part of the fourth level.

The creator of Pitfall!, David Crane, states that it took him ten minutes to come up with the idea for the game after trying to figure out what to do with an animated running man, and 1000 hours to program it.

Players scoring over 20,000 points on Pitfall! were able to receive a prize from Activision, the game's publisher, by sending in a photograph of themselves and their television screen. Fortunately, this was in the days before Photoshop. The prize was an Activision Explorers' Club badge featuring Pitfall Harry.

The five notes that play when you lose a life are the same as the notes in the theme tune to the TV series Dragnet. Take a listen below...

The aim of Pitfall! is to collect 32 treasures within the game's 20 minute time limit. Not as easy as it sounds as there are 250 screens to explore in the game.

Jack Black, 13 years old at the time, made his acting debut in a TV commercial for Pitfall! Here it is!



Pitfall!-inspired segments have appeared in an episode of South Park in 2002 (season 6, episode 8). It also featured in the web-based Homestar Runner episode "In Search of the Yello Dello" (2000) - Adobe Flash is required to play the video.

Facts added 2nd April 2017, updated 16th April 2020